The optical communications industry enters 2020 with very strong momentum. The end of 2019 saw a surge in demand for dense wavelength division multiplexing (DWDM), Ethernet and wireless forward connections; In 2020 and 2021, due to the COVID-19 pandemic, there will be a major shift towards working from home and homeschooling, creating a greater need for faster, more ubiquitous, and more reliable networks. While supply chain disruptions continue, the industry has largely been able to overcome these issues, resulting in strong growth in the optical devices and modules market in 2020 and 2021, as shown in the chart below.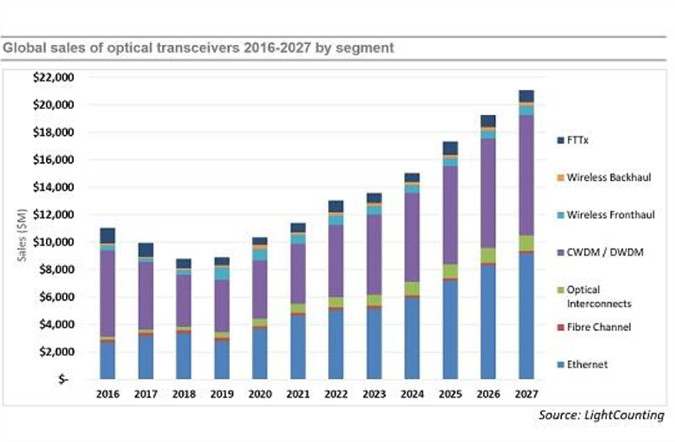 After the growth of 10% and 17% respectively in 2021 and 2020, the global transceiver market is expected to achieve a strong (14%) revenue growth again in 2022. However, before recovery in 2024-2025, market growth is expected to slow to 4% in 2023. The demand for optical devices in all market segments is very strong, but the persistent bottleneck in the global supply chain has a negative impact on the sales of 400G DR4 and 100G DR1+transceivers to Amazon in the first nine months of 2022. Meta has significantly increased the deployment of its optical devices this year, but its latest forecast for 2023 has dropped significantly. LC suspects that if the current economic slowdown continues to have a negative impact on advertising, streaming media and retail businesses, Amazon and other cloud companies may reduce their investment in 2023.
According to the latest forecast, the compound annual growth rate (CAGR) of the market from 2022 to 2027 is 11%, which is not much different from the 13% CAGR published in October 2021. The strong sales of DWDM and Ethernet Optics accounted for most of the market growth in 2021, and it is expected that these market segments will continue to lead the growth in 2022-2027. The sales of optical interconnection, mainly active optical cable (AOC), will also grow at a double-digit rate in the next five years. With the end of the 10G upgrade cycle in the Chinese market and the gradual increase of 10G PON deployment in North America and Europe driven by government funded projects, the PON sales of the FTTx network will remain stable. 25G and 50G PON will provide new growth later in the forecast period. Wireless prequel is a weak sector because China's 5G network deployment is nearing completion. With the start of 6G deployment, the growth of this segment will resume in 2026-2027.